Ozone deactivates viruses!
You need the answers to 2 questions when you use ozone to disinfect your living and working spaces:
Is the ozone concentration high enough to destroy the viruses?
When has ozone dropped low enough for me to go back into the room?
2B Tech Ozone Monitors Answer Both Questions
Based on a sophisticated UV-absorbance technique for measuring ozone
Measures high concentrations (up to a few hundred parts per million) to answer Question 1 above
Measures low concentrations (down to a few parts per billion) to answer Question 2
Superior to electrochemical and HMOS sensors
Model 108 Series Ozone Monitors
Our Smallest and Most Economical Ozone Monitors
Bare-bones "ozone monitors on a board"
Use your system's pump to bring air into the instrument
No enclosure, for easy integration into your ozone disinfection system
​Relay for controlling your ozone source
Model 108-L: Measure from 1 ppb up to 100 ppm (extendable to ~200 ppm upon request)
Model 108-M: Measure from 20 ppb up to 1000 ppm
Ensure your room has returned to OSHA limits (2-hour standard of 200 ppb and below)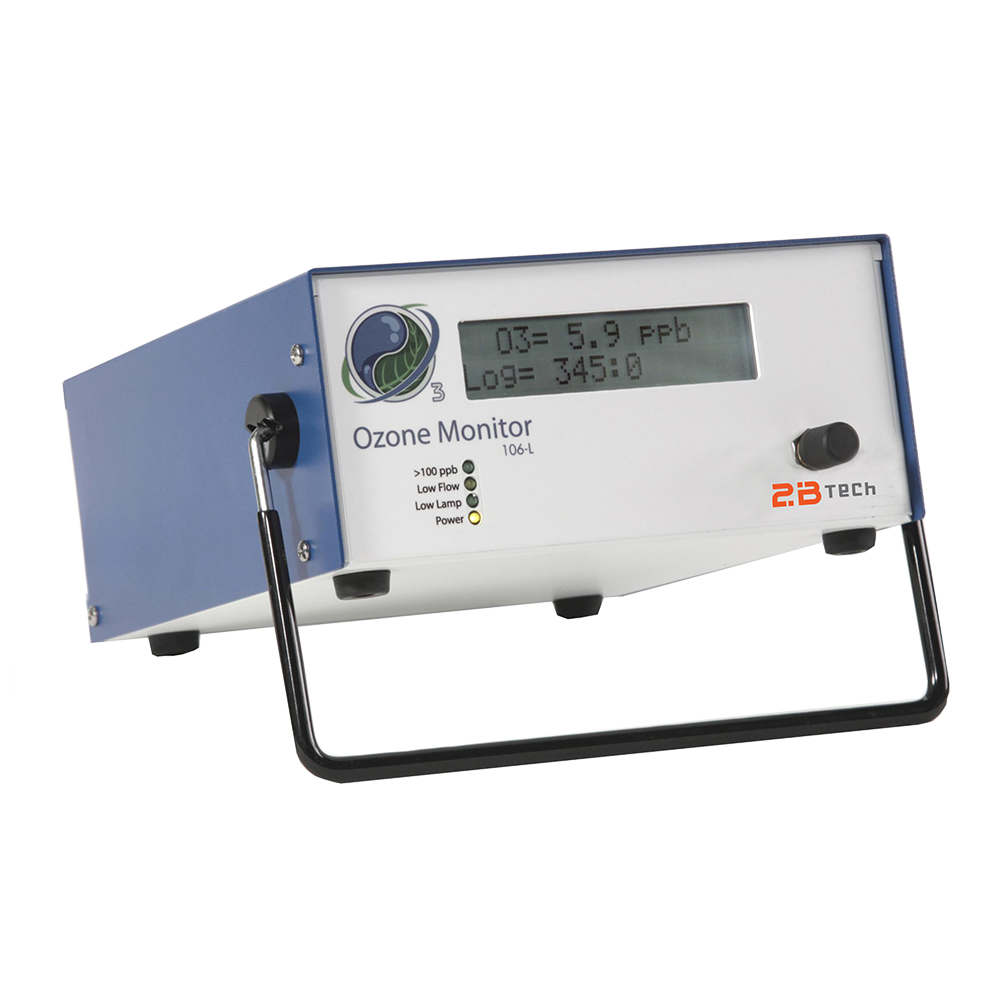 Models 106-L & 106-M Ozone Monitors
Same Range and Sensitivity as Model 108 Counterparts
Self-contained instruments with an enclosure and an internal pump
Two 2-level relay switches for controlling ozone, sounding an alarm, or controlling other processes based on ozone concentration
Also available as OEM versions with no case for those who want to include the instrument as part of their ozone disinfection package
2B Tech Monitors are used in a commercial ozone disinfection system. Ozone monitors manufactured by 2B Tech are integrated in the STERISAFE PRO and used to monitor ozone during the disinfection process.
Contact us to see how our Ozone Monitors can help to complete your ozone disinfection system!
---
Research on Ozone and Viruses
Links to research papers about viruses and gas-phase ozone disinfection:
Inactivation of Surface Viruses by Gaseous Ozone, C. Tseng and C. Li, Journal of Environmental Health 2008, 70(10), 56-63.​​
Inactivation of Norovirus by Ozone Gas in Conditions Relevant to Healthcare, J.B. Hudson, M. Sharma, and M. Petric, Journal of Hospital Infection 2007, 66(1), 40-45.
Different Uses of Ozone: Environmental and Corporate Sustainability. Literature Review and Case Study, M. Remondino and L. Valdenassi, Sustainability 2018, 10, 4783; doi:10.3390/su10124783.
Information about aqueous ozone disinfection:
Please note the following statement of the International Ozone Association issued March 17, 2020:
"The International Ozone Association (IOA) has received several inquiries regarding the effectiveness of ozone to disinfect water and surfaces for the coronavirus SARS-CoV-2 that causes the illness Coronavirus Disease 2019 (COVID-19). While ozone is highly effective for the inactivation of many viruses, the IOA is not aware of any research and testing that has been conducted specifically on the SARS-CoV-2 coronavirus. To the best of our knowledge, Peer Reviewed Research has not yet been completed and therefore definitive conclusions cannot be made regarding ozone inactivation of SARS-CoV-2…For more information about the coronavirus disease and prevention, please visit the Centers for Disease Control and Prevention website at: https://www.cdc.gov/coronavirus/2019-ncov/summary.html."
The IOA has also compiled the available research on ozone inactivation of various pathogens and viruses (not SARS-CoV-2) contained in the journal Ozone Science and Engineering (OS&E): https://www.tandfonline.com/action/doSearch?AllField=virus&SeriesKey=bose20.
​
ScienceDirect is offering Open Access to emerging research related to coronavirus (SARS-CoV-2) and related viruses at the following link: www.sciencedirect.com.